Der Workshop "Gold & Mercury | Metals in Transit" findet vom 7. Bis 10. Juni als hybride Veranstaltung im  Lorentz Centre Leiden statt. An den einzelnen Tagen des Workshops finden hybride Round Table Diskussionen statt. Sollten Sie spontan Zeit und Interesse an einer Teilnahme bei den Round Tables haben, antworten Sie gerne auf diese Email. Sie bekommen dann am Montag, 6. Juni 2022, den Zugangslink zugeschickt.
Round Tables:
Tuesday 07/06:
16:30 –18:00 Round table 1: Retro technology transfer discussion led by Donna Bilak (New York), Thijs Hagendijk (Utrecht), and Andrew Lacey (Camarthenshire), moderated by Marjolijn Bol (Utrecht) with group Q&A
Wednesday 08/06:
16:00 –17:30 Round table 2: Past-present-future extractive practices and sustainability led by Tina Asmussen (Bochum), Robyn D'Avignon (New York), and Ruth Goldstein (Wisconsin-Madison), moderated by George Vrtis (Minnesota) with group Q&A
Thursday 09/06:
16:30 –18:00 Round table 3: Medicine, metals, and minerals from cross-cultural perspectives led by Marieke Hendriksen (early modern Europe, Amsterdam), Hannah Elmer (medieval & early modern Europe, Hannover), Gabriele Ferrario (Graeco-Roman, Byzantine, and Arabic medico-alchemy, Bologna), moderated by Vincenzo Carlotta (Bologna) with group Q&A
Über den Workshop:
Der interdisziplinäre  Workshop bringt Wissenschaftler:innen zusammenbringt, die an den Schnittstellen von Wissenschaft, handwerklicher Praxis und Geisteswissenschaften arbeiten. Dieses Forschungsprojekt ist die erste vergleichende Untersuchung von Gold und Quecksilber und zeigt auf, wie ihre verschlungene chemische Geschichte Kulturen, Körper und Umwelt über die Jahrtausende hinweg bis in unsere Zeit verändert hat. Untersucht werden die Bedeutungen und Kontexte hinter den Produkten und Kontroversen, die die chemische Verbindung zwischen Gold und Quecksilber auslöst. Die Forschenden werden den gepriesenen Status von Gold und seine Assoziation mit menschlichen Konstrukten wie Reichtum, Schönheit, Spiritualität und Reinheit in Frage stellen, indem sie sich  mit den unbequemen ethischen Fragen befassen, die den Handel mit Gold schon immer begleitet haben.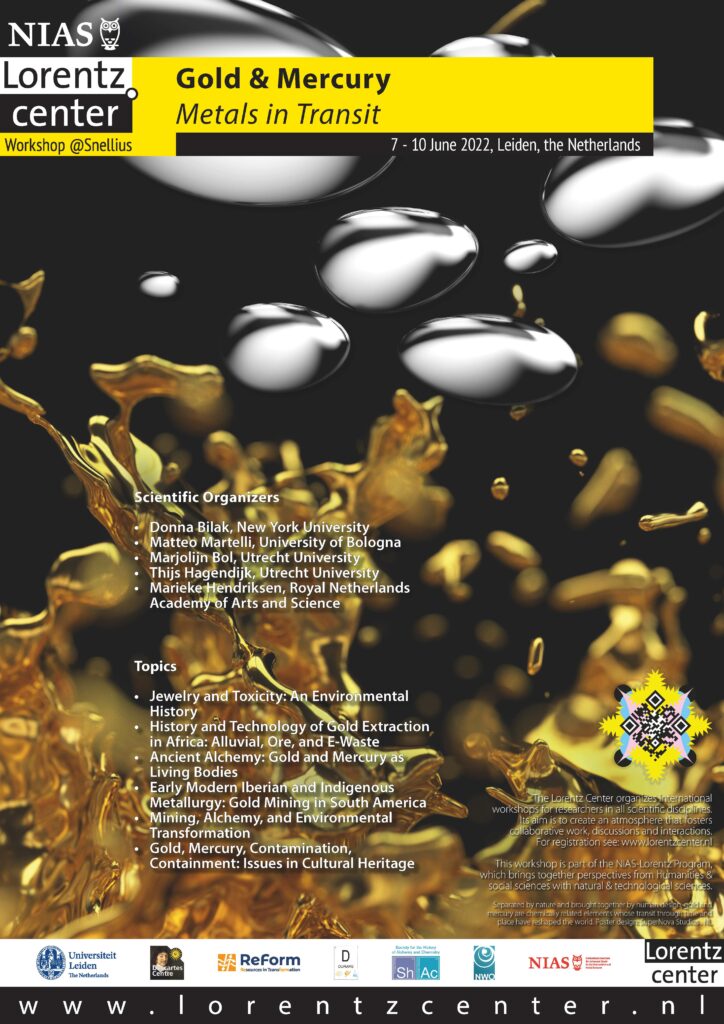 The Lorentz Center organizes international workshops for researchers in all scientific disciplines. Its aim is to create an atmosphere that fosters collaborative work, discussions and interactions. For registration see: www.lorentzcenter.nl
This workshop is part of the NIAS-Lorentz Program, which brings together perspectives from humanities & social sciences with natural & technological sciences.