Hernan Flores received the B.Sc. degree in Geophysical Engineering from the University Simon Bolivar, Venezuela in 2015, and the M.Sc. degree in Groundwater Management with a specialization in environmental risks management in 2020 from the TU Bergakademie Freiberg, Germany. From 2018 to 2021 he started his career as junior researcher at the Exploration Technologies Department at the Helmholtz Institute Freiberg for Resource Technology – Helmholtz-Zentrum Dresden-Rossendorf (HZDR), Freiberg, Germany. Since 2021 he has worked as research associate with the Geomonitoring Department, Research Center of Post-Mining, Technische Hochschule Georg Agricola, Bochum, Germany. 
His research interests includes mine waste management and water monitoring using innovative sensors at multiple scales with particular emphasis on hyperspectral imaging applications and machine learning. He has been a manuscript reviewer for the Mine Water and Environment Springer Journal of Selected Topics in Mine water, Hydrogeology and Remote Sensing.
TRIM4Post-Mining: Transition Information Modelling for Attractive Post-Mining Landscapes
My research focus is on the management of past, current and future mine waste locations. Tons of waste material is yearly removed, handled and placed into final repositories or landforms, based on engineering design criteria informed by geochemical parameters, where it remains indefinitely unless another use for it is identified. If inadequately managed, these materials may represent a risk for the surrounding communities (human health and ecosystems), since they might release toxic elements and acidity into the environment (i.e., acid mine drainage), or physical risks (i.e., dam stability). Therefore, the importance of the accurate characterization of such sites, their continuous monitoring and the best post-mining scenario selection either as a secondary source of resources or as a second societal or industrial purpose tailored to the waste conditions and morphology.
For such tasks, emerging innovative hyperspectral and new-generation geochemical and mineralogical sensors are being developed and increasingly being applied to determine the properties of mine waste for a more efficient, non-invasive and rapidly way to assess how it should be best managed and reduce environmental risks. In this context, comprehensive spatiotemporal data analytics, feature extraction, and predictive modeling will be developed aiming to derive environmental domaining index values to quantify potential risk and forecast the waste dump dynamics. All the up-to-date data and models will be embedded in an interactive planning system that guarantees efficient and transparent communication of planning scenarios in terms of residual risks, technical and economic feasibility, environmental and social impact between all key stakeholders.
These objectives are aligned with the research field "Resources between Appropriation and Occurring" as it seeks to determine the best transformation for mine waste materials while avoiding damage to the environment. As well as to "Resources and Scales of Production and Consumption" as it also looks to assess the presence of critical materials within mine waste that can benefit the current mineral demands needed for technological industry and economic development.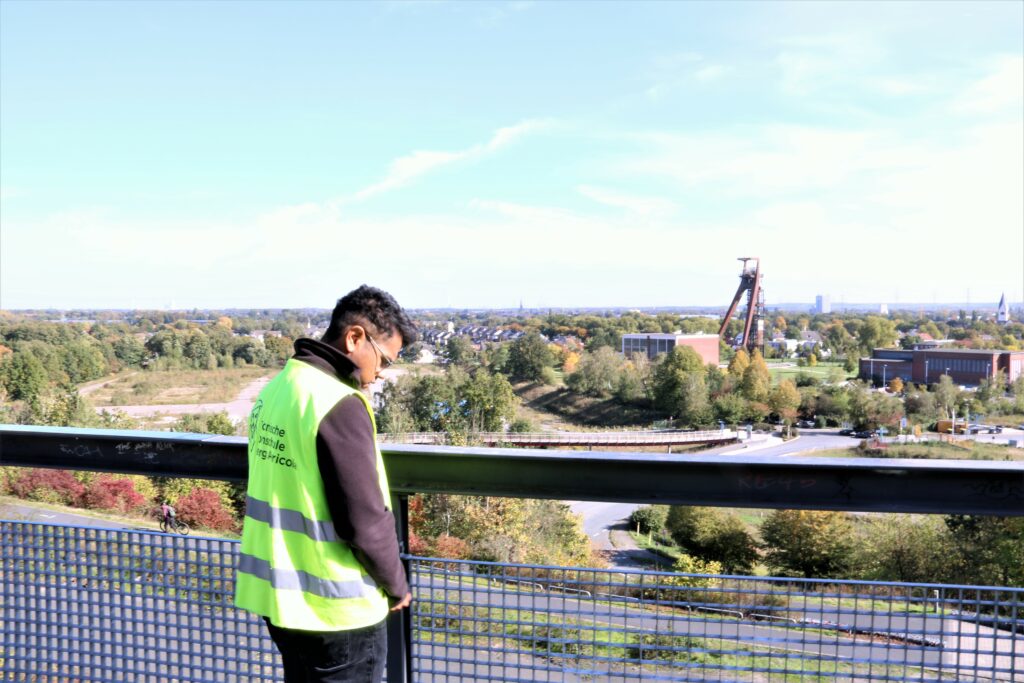 Zeche Recklinghausen II
historic hard coal mine. Today this is a park and cultural center.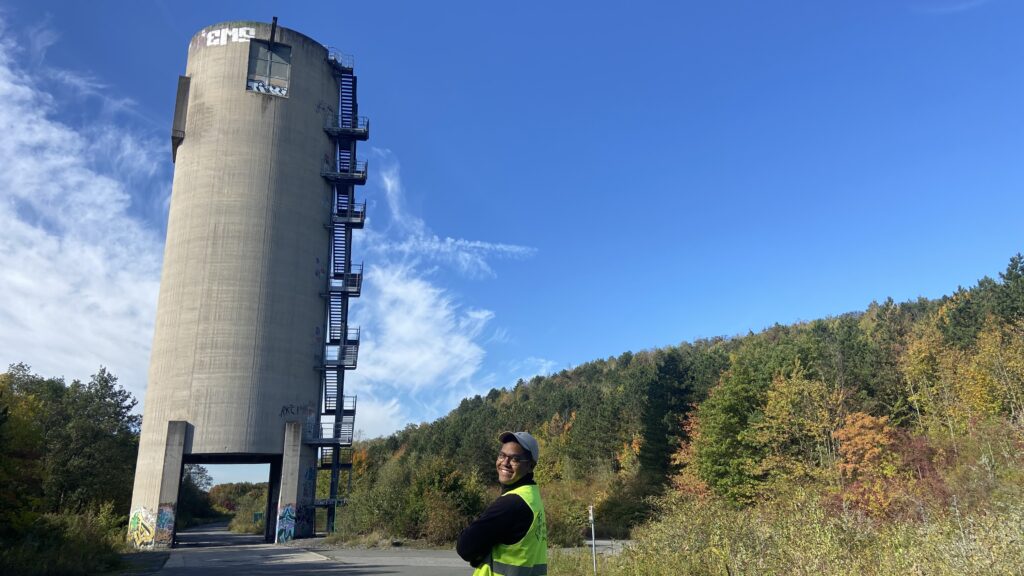 Zeche Recklinghausen II at the Verladeturm Hoheward
On the right side is the mine dump where today is place for bike riding and natural space for the community.